At Parity.org, our unique focus is on helping companies create a better, more inclusive culture so that great talent has an equal shot at top, decision-making roles in the company. We know that there are already more than enough qualified women and people of color to have gender and racial parity at the top of corporations today, where the representation gap is the widest. But change has been slow, and many companies aren't sure where to start. More and more, companies are realizing that creating diversity and inclusion takes a multifaceted approach and can't be solved with hiring alone.
That's why I'm thrilled to share with you The Parity Model™, a roadmap for achieving and sustaining gender and racial parity in your organization. The Parity Model is the result of hundreds of conversations I've had with CEOs, CHROs, heads of diversity, recruiters, and other experts over the past three years. Parity.org has identified the three key pillars (Representation, Equality, and Inclusion) that each company must develop to create lasting parity, and the model also includes the Eight Enablers—tools that any company can use to achieve and sustain progress.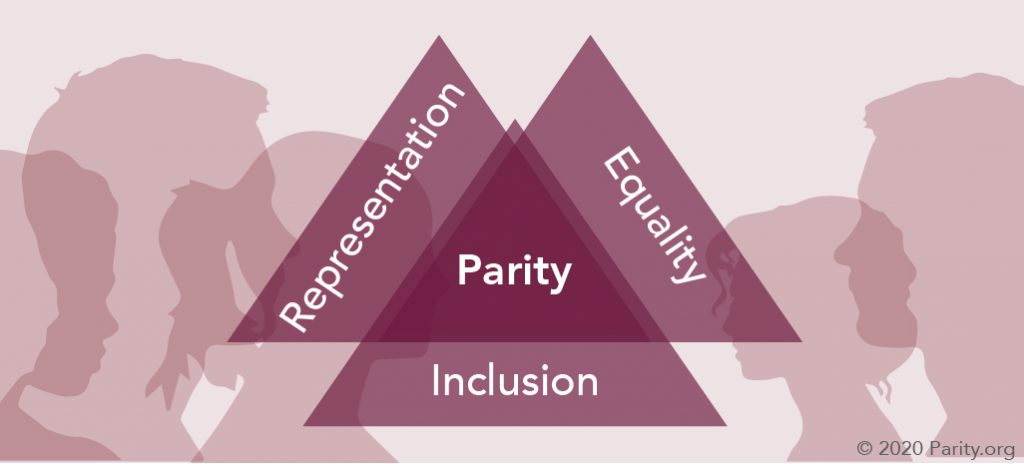 When companies develop the three pillars of Equality, Inclusion, and Representation, they will create momentum for parity. But a company that neglects one or more of the pillars will feel that parity is an uphill battle: the pillars work together, and progress in one area will help companies make progress toward the others. By striving for equality in practices, inclusion in culture, and representation in leadership, you will find that a new, better corporate culture emerges—one that will create positive impacts to your financial performance and profitability, employee and client retention, innovation revenue, and, as a result, strengthen your brand value.
A company that is committed to increasing diversity can make a significant difference by setting an example for their industry. We have examples of such leaders in our Best Companies for Women to Advance List 2020, and believe that any company using The Parity Model can succeed like these top companies.
Whether your company is new to the journey or has already made progress in its goals to create gender and racial parity, The Parity Model can advance your understanding of how to create and sustain a diverse and inclusive culture at the top. I hope it becomes a regular part of your toolkit as your company continues down the path to parity.
-Cathrin Stickney
Founder and CEO, Parity.org